Shopping Cart
Your Cart is Empty
There was an error with PayPal
Click here to try again
Thank you for your business!
You should be receiving an order confirmation from Paypal shortly.
Exit Shopping Cart
Mentone's Gazebo Gazette​

| | |
| --- | --- |
| Posted on December 30, 2014 at 7:13 PM | |
Mentone's Gazebo Gazette
Volume 1
October 2013
Some interesting demographics about Mentone……..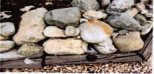 According to the 2010 United State Census, Mentone has a population of 8,720. The racial makeup is 70.1% Caucasian, 35.4% Hispanic or Latino, 5.0% African American, 4.0% Asian, 1.4% Native American, 0.4%Pacific Islander, and 14.2% from other races.
There are 3,026 households and the average household size is 2.84. Those who live alone and are 65 years or older represent 5.9%. The median income for a household is $41,225. 60.7% of the population is under the age of 18. The average age is 32 years old. For every 100 females over the age of 18, there are 91.9 males.
Mentone's elevation is 1,650 ft.
Mentone is not incorporated and has no mayor or City Council. Its schools are part of the Redlands Unified School District. Police and Fire Services are provided by San Bernardino County (Police services come from the Yucaipa Valley Sheriff's Station), with mutual aid and assistance from the Redlands Police and Fire Departments.
In the State Legislature Mentone is located in the 31 Senate District, and in the 59 Assembly District. Mentone is located in California's 41 Congressional District.
Mentone has a very colorful history that dates back to the late 1870's. Its residents are proud of their community and strive to maintain their independence. It is one of the last vestiges of orange production that at one time was predominant in Redlands, Mentone, and surrounding areas.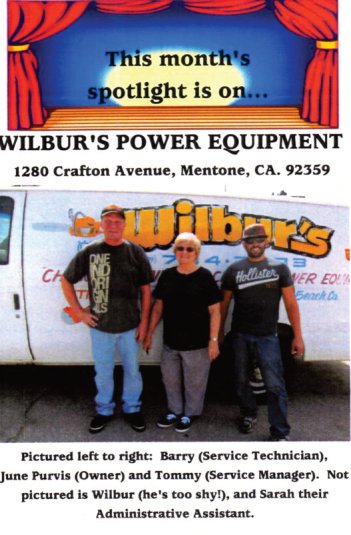 In 1963, Wilbur and June Purvis bought an abandoned building on Crafton Avenue in Mentone (previously owned by Lockheed) and began a boat and boat motor repair shop. A long time (and well- known) Mentone resident, Frank Jacinto, talked them into selling chainsaws and a whole new business sprang up. Wilbur and June's son, Tom, literally grew up in the business, and became efficient in selling and repairing power equipment. In 1999 Tom went to work for TORO (with Wilbur and June's blessing), and became their Top Salesman west of the Mississippi. Tom valiantly battled cancer for a number of years before passing in November of 2012. Some of their more notable customers are the U.S. Forestry Service and City and County Government Agencies.
Both Wilbur and June are longtime residents of Mentone. Wilbur's family moved here when he was but 2 years old. His first home was the stone building on the corner of Crafton and Mentone Blvd. which later became the only fire station in town.
June met Wilbur on a blind- date, which has resulted in over 59 years of marriage. Who was is that said, "Love is blind?"
Barry is their Service Technician and has been with Wilbur's Power Equipment since his High School days.
Tommy, their Service Manager actually grew up with the business.
Sarah, their Administrative Assistant has been with the company since 2005.
Their business hours are:
Monday thru Friday
8am to 5pm
(909)794-2483
Fax: (909)794.3526
If you have a need for any power equipment, or repair of existing equipment, come and give WILBUR'S a try! They have developed and maintained a reputation for honesty, efficiency, and a small- town friendliness that can't be found in the "big-box stores".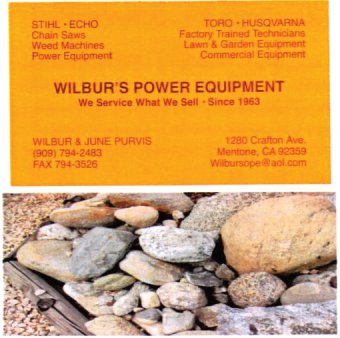 Categories: history
/