Shopping Cart
Your Cart is Empty
There was an error with PayPal
Click here to try again
Thank you for your business!
You should be receiving an order confirmation from Paypal shortly.
Exit Shopping Cart
Mentone's Gazebo Gazette​

| | |
| --- | --- |
| Posted on December 30, 2014 at 8:34 PM | |
Mentone's Gazebo Gazette
Volume 4
January 2014
If you're REALLY hungry than we've got the place for you….Mentone's Mill Creek Cattle Co. Without a doubt it is the most colorful business in Mentone. Decorated to the hilt with old Western memorabilia and it offers a menu of barbecue and good old- fashioned cookin'. Mill Creek Cattle Co. is what a lot of restaurants would wish to be. And, if you leave hungry, it's your own fault because they are known for their generous portions.  
Jim and Maribeth Lotito took over two years renovating the old Mentone Yacht Club when they purchased the property back in 1998. The property has a colorful history. In 1927 it began with Wirth's Mentone Inn which specialized in chicken dinners.
The Wirths had chicken coops out back and raised and cooked their meat as fresh as was possible. The Inn itself consisted of four bedrooms and one bathroom on the top floor. The Lotito's office space is now located on that top floor. Maribeth's parents, the Millers, bought the restaurant from the Wirths in the late '50's and early '60's and kept it as the Mentone Inn. It became a gourmet restaurant and had a French chef named Luigi. The Miller's sold the business and it eventually became "Dave's Place" and then "The Mentone Beach Yacht Club".
Jim began his restaurant career in 1958 when he opened "Jim's Water Wheel Inn", in West Covina. The have over 56 years in the business. The Lotito's attended Chili Cookoffs around the United States for many years, and were the founders of Mentone's Chamber of Commerce Chili Cook-offs.
This is a picture of their Chili Cookoff entourage when they took home THE WORLD'S CHAMPIONSHIP CHILI COOKOFF in 1988. They still make some of the best (if not THE best) chili found anywhere.
Mill Creek Catering Company has been around for some 35 years. Maribeth and her daughter rant the Creekside Kitchen in Oak Glen as well.
Looking at their menu will bring a "WOW!" from your lips. They have it all! And, the portions are heaping!
Jim and Maribeth designed the Mill Creek Cattle Co. to be a family gathering place, and their own family works there as well. The cooks have been with the Lotitos for over twenty- some years.
At Mill Creek, nothing is pre-made. All their bread is baked daily, the beans are made fresh and the veggies are the colors that God made them. The meat is always cut fresh and cooked and smoked to perfection. My wife's favorite is their "Three Cheese, Twice Baked Potatoes".
Jim's family has owned 27 restaurants to date. Mill Creek Cattle Co. has a large following and many regulars, its Mentone's favorite "watering hole". If you are planning a special function, this is the place to visit. Their website is
www.millcreekcattlecompany.com
Maribeth also makes and sells gift baskets for any occasion. She is very gifted and every basket is unique. There is also a Redland's Mill Creek Cattle Co. on California Street, which was featured on a Television reality program (which will be shown in the early part of 2014).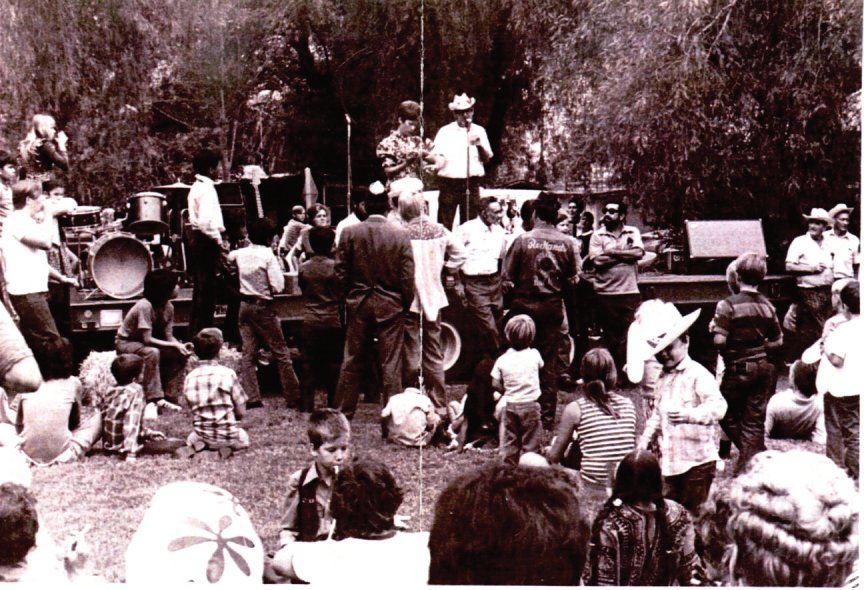 (Do you recognize anyone in the above picture? Let us know if you do)
In the early 1970's Mentone residents enjoyed an annual parade and picnic. The parades had over 70 entries from the surrounding areas. The Highway Patrol would block off traffic on Mentone Blvd. (Highway 38) and divert it to adjacent streets. Pictured above is Mentone's third annual gathering. The man behind the microphone is Joe Polack who was the Master of Ceremonies. Heading up the arrangements for the Third Annual Mentone Parade and Barbecue were Del O'Neil, Janice and Bob Hart, and Joe Polack.
The Park itself occupied the lot adjacent to the Elephant Orchard packing house (which is now home to Hovey Tile Art). The Barbecue Park had different buildings representing an old West village, complete with Saloon and Jail.
The Parade and Barbecue was a great tradition until the day that it turned into a rock and bottle-throwing incident that resulted in over 30 arrests. Most of the participants in the may- lee were out-of-towners, and not Mentone residents. But it dampened the spirit of the residents and the event rode off into the sunset never to be seen again. Perhaps someday, we'll have the courage to re-invent the thing.
The most serious blow to Mentone's economy was when, in 1975, Lockheed Propulsion Co. closed its Mentone facility, laying off some 1,500 workers. Some thought that the closing would be the end of our little town, but it wasn't. In today's economy such a closing probably wouldn't hurt all that much since most of the residents work elsewhere. Mentone's biggest threat of existence is probably from our neighbor Redlands, who has control of the water supply. Redlands refuses to allow connection to its water system unless developers agree to annex to the city, or not put up a fight, if and when, Redlands decides to annex Mentone. Redlands probably wouldn't annex the whole area, as they wouldn't gain much, since they have already annexed all the industrial land around the airport and businesses adjacent to their borders.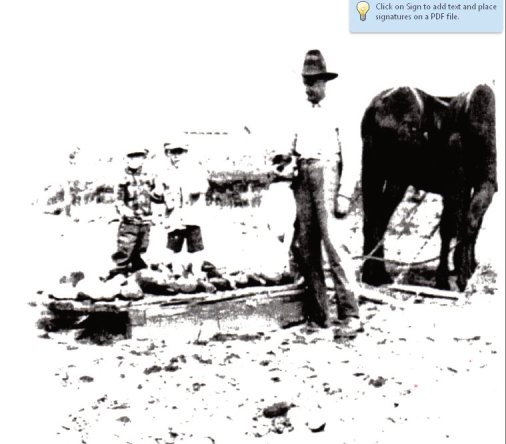 Back in volume one of the Mentone's Gazebo Gazette I mentioned that there were two men who removed all the rocks from the lots with the aid of two mules. Above is pictured one of the men, Charlie Hall, along with his two mules, and faithful dog. The two lads observing the operation are (left to right) Bob Sewell and John Shoup. Bob Sewell was gracious enough to share this photo so everyone could see how the "grazing sheep" were removed from the area.







I don't have the dog's or the mule's names, but I'm sure they were loved as well. Bob Sewell still lives in Mentone on Jasper Street where he's lived since 1927. He has many colorful tale to tell.




In the next publication of the Mentone Gazebo Gazette I will attempt to share the beginnings of the water supply for Mentone and the Crafton area, along with the facts about the beginnings of the famous Zanja (pronounced by many as "Zanj-ee")around the year 1819.




A proper water supply has always been a problem in this area. 2013 proved to be the year of the lowest recorded rainfall since California began taking records. According to my rain gauge, we received 6.36 inched of rainfall (the lowest I've recorded in the last 35 years).

But building never seems to slow down, and I often wonder what the future holds for us if this drought continues. Only our God knows. We all need to be conservative in our use of this precious gift.

Categories: history

0

/