Shopping Cart
Your Cart is Empty
There was an error with PayPal
Click here to try again
Thank you for your business!
You should be receiving an order confirmation from Paypal shortly.
Exit Shopping Cart
Mentone's Gazebo Gazette​

| | |
| --- | --- |
| Posted on January 6, 2015 at 5:06 PM | |
Mentone's Gazebo Gazette
Volume 6
March 2014
Water History of Mentone Part Two
As I stated in an earlier publication, the fledgling area of Mentone suffered from an inadequate water supply that discouraged early settlers who had purchased the land from the promoters working for the railroads. The first large land grants came about with the Pacific Railroad Act of 1862. This was the legislation that enabled the transcontinental railroad. The railroads were granted 400 foot right- of- ways, plus ten square miles of land for every mile of track built. Mentone was birthed in 1872 when the Santa Fe- Pacific Land Improvement Company acquired every other section of land from Mentone to the Mill Creek jump off.
Somewhere around the late 1870's three men: A.G. Hubbard, S.H. Marlette and W.P. McIntosh began promoting the "Mentone Tract". McIntosh and Marlette lived in Mentone, and Hubbard lived in Redlands. W.P McIntosh had tunneled an unreliable water supply from Mill Creek. If it hadn't been for W.J. Tench, who dug the first well in 1898, Mentone probably would not have survived.
In 1886 Bear Valley Mutual Water Company began the supply of domestic water to Redlands to a reservoir on Dearborn Street and another which was located at what is now Ford Park. But as a result of a typhoid outbreak traced to the Bear Valley Canal, Redlands sold bonds and went into an improvement program for its water supply. At the same time the Bear Valley Mutual Water Company changed their by- laws to declare that the water they delivered was for irrigation purposes only.
In 1926 The City of Redlands purchased water rights in Mill Creek and built a water treatment plant providing water to Redlands and some portions of upper Mentone. In 1927 Redlands agreed to provide treated water to the Greenspot Water Company through separate pipelines in exchange for discharging "filter backwash" water into the Greenspot irrigation water system.
W.J. Tench and his wife, Florence, arrived in Redlands from New York (by way of Missouri) on March 8, 1888. He became the Mentone Station Agent for the Santa Fe Railroad and held that job for some ten years. He purchased ten acres of land in Mentone on the south-west corner of Mentone Blvd. and Agate Ave. He planted an orange grove which soon forced him into the water business. W.P. McIntosh's water supply couldn't meet the demand. Once a day, if there was water in the reservoir, a man on a horse would go through town shouting, "Water On! Fill you barrels!" Everyone would then take their day's supply of water which would have to last for at least 24 hours.
Part of the problem (other than a drought) resulted from the creation of the Redlands Electric and Power Company which allowed them to divert the flow of Mill Creek at a point nearer the mouth of Mill Creek Canyon, more than a mile above the historic diversion point used by the prior rights owners. This diversion resulted in more than a mile of the Mill Creek streambed becoming dry except in times of heavy rain or snow melt.
Many of the new Mentone people moved away, and many of the newly planted orange trees simply dried up and were abandoned. Next month we will see the tenacity of W.J. Tench and will examine his efforts to save Mentone from disaster. (continued next issue).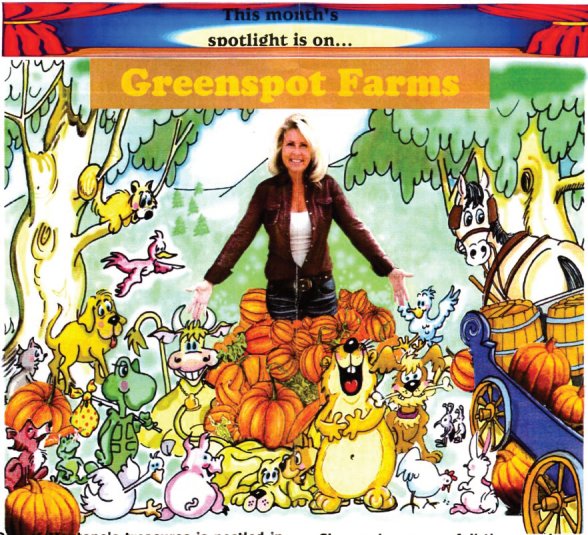 One of Mentone's treasures is nestled in the foothills of the Crafton Hills at the end of Ward Way in Mentone. For years it simply was 28 acres of sage brush and weeds. The farm was developed from scratch after years of labor and love. Its owner, Kim Buoye, acquired water from Bear Valley Water Company and turned those 28 acres into a paradise. Kim is part of five generations of "Mentonites", born and raised in Mentone. Many of the older orange and avocado groves in the area were planted by her grandfather.

She employs one full time employee and a bunch of part- timers during busy seasons. Her daughter, Katie, is the Farm's Director, and Tony (her full- timer) is the Farm's Manager.

Kim comes from a family of hard- workers, Dad, Mom, and two brothers and a sister. She has a beautiful smile, a love for people, and a dedicated "head" for business. The farm offers fun and excitement for everyone.

Greenspot Farms has some of the freshest Christmas Trees in the area and offers a Pumpkin Patch during the fall season. They have fresh home- grown oranges, avocadoes, limes and lemons, grapefruit, apples, and raw honey.             

They have children's tours, and school tours which start in April of each year. During the fall season they offer old-fashioned tractor- pulled hay rides. They also offer train rides, horse rides, a petting zoo with goats, pigs, cows, rabbits, chickens and ducks. There is a "hedge-maze" on the property for lots of fun and discovery.

It's an ideal spot for Birthday parties and special events. And, of course, they are noted for the Pumpkin Patch during the pumpkin season. It's an ideal spot for a wedding as well. They have an old school house/ wedding chapel and even Honeymoon Suite.

The Farm is open daily, and during the season from October thru December their hours are 9am to 6pm. The Farm can be rented for an all-day event. Check out their "Haunted Hayride" in October of each year.    They also board horses and give horse riding lessons.

The Farm offers picnic areas with a fire- pit and stage. They even furnish the firewood and electricity. Your party will have a fun- filled, exciting time down on the Farm at Greenspot Farms!

Greenspot Farms




10133 Ward Way, Mentone, Ca. 92359







(909)794-7653 or (909)376-5172

 

Categories: history

0

/