Shopping Cart
Your Cart is Empty
There was an error with PayPal
Click here to try again
Thank you for your business!
You should be receiving an order confirmation from Paypal shortly.
Exit Shopping Cart
Mentone's Gazebo Gazette​

| | |
| --- | --- |
| Posted on January 6, 2015 at 5:10 PM | |
Mentone's Gazebo Gazette
Volume 7
April 2014
Water History of Mentone Part Three
As I stated in an earlier publication, the fledgling area of Mentone suffered from an inadequate water supply that discouraged early settlers who had purchased the land from the promoters working for the railroads. Many of the new Mentone inhabitants moved away and most of the newly planted orange trees dried up.
W.J Tench saved Mentone from disaster. He approached the Land Company with a proposal that if he could secure a reliable source of water, the Land Company would give him a parcel of land and also lease him the existing pipelines. The Land Company, whose back, was against the wall, agreed. And, in September of 1898, Tench, with the help of Ah Yee, a Chinese laborer, began digging a well at the north east corner of his property. It took two years to complete (which is amazing considering Mentone's rock infested ground). The two of them dug a hole four- feet wide, six- feet long and 190 feet deep. Dynamite had to be used to clear out some of the huge boulders. Every ounce of rock and sand had to be lifted from the hole using a bucket which was raised by a horse-powered windlass. They beefed up the sides of the hole with redwood timber 2 x 12's, and a ladder was built (and added to) as the hole deepened.
Tench hit some water at 165 feet, but kept on digging. Eventually he struck a bed of clay, and the local folk said that if he punctured the clay he most likely would lose all the water he had discovered. He decided to dig through it in spite of their comments, and on April 11, 1900, water spouted through in a gusher.
At the completion of the well, Mr. Tench requested that the Land Company fulfill their part of the agreement, which they had agreed to do, after their representative verified the water source. The pipelines were leased to Tench for a period of five years with a second five year period if the service was deemed satisfactory.
Many stories concerning the Tench Mentone Water Company abound, some are true, some are questionable, and some are downright wrong. One famous story says that during the digging of the well, the Chinese laborer had placed a dynamite charge in a huge boulder, and was climbing up the ladder, but wasn't quite out of the hole when the charge went off. It was said, "He was blown out of the hole!" and was not hurt, but that his yellow-tinted skin turned ghostly white.
In 1903, Tench built a reservoir that would eventually store a quarter- million gallons in an open pool from which 10 and 12 inch pipes reached through Mentone, feeding scores of smaller laterals. The lines reached all the way west to Wabash Avenue (Redland's city limits). It remained as it was originally built until the 1970's when stricter health requirements demanded that the sides be finished and an inflatable roof was added.
In 1905, Tench was notified by the Pacific Land Development Company that the McIntosh interests had acquired the pipelines and that they were unwilling to renew his lease. Mr. Tench had to relinquish his hard-earned pipelines in 1906. Even though the Mentone Water Company suffered a diminished supply; they still continued to provide water to many Mentone residents. A fierce competition began between Tench and McIntosh. (Continued in next issue)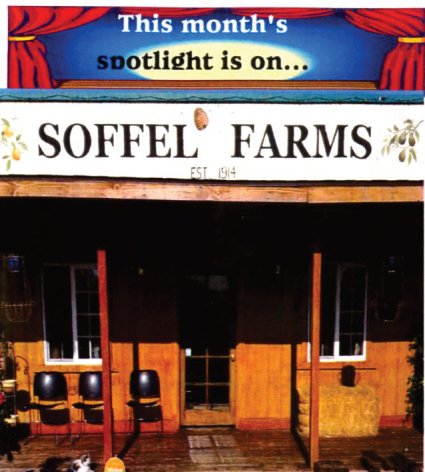 Six generations of Soffels are represented here at Soffel Farms. Ron Soffel's great grand- father, in 1914, planted some of the first orange trees in the region, and possessed the first all-electric home on the north side of Redlands. In the 1940's, Ron's grand-father, Joe Soffel, planted the first avocado trees, in spite of many growers telling him the trees would never survive this far inland. The avocado trees surrounding Redland's Airport prove his critics wrong.
The fourteen acres of Soffel Farms produce organic blueberries, blackberries, strawberries, onions, watermelons, avocados, oranges, grape-fruit, pomegranates, honey jams and bar-b-que sauces made from honey. Think you've tasted everything? Wait until you taste their low sugar blueberry jam! Yum!
The blueberries are grown on over 2000 plants and consist of over six different varieties. During Christmas season they offer some of the freshest Christmas trees available.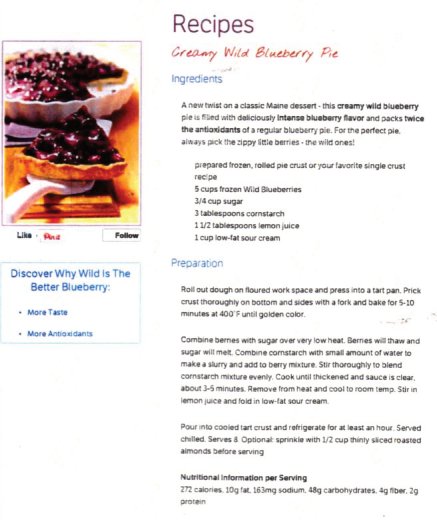 The retail store is open seven days a week from 10am to 6pm. The store is run by Ron's sister- in – law, Shannon.
Starting the last two weeks of April (right now) you can pick your own blueberries, which are the only fresh, plant- grown ones available in the area.
There are amazing benefits of blueberries. This little fruit softens dry skin, boosts your brain power and may even prevent cancer. They contain many naturally occurring antioxidants, which help to protect the body against free radicals. They are literally bursting with nutrients. They can help regulate stomach irritations regarding motility because they contain fiber and tannins that act to draw tissue together and decrease inflammation. Soffel Farms offer the biggest and juiciest ones available. And don't forget their honey and honey by-products.
 The Soffels have been in the bee business for decades, and bottle-up the best honey in the Inland Empire. No other insect has served the needs of man like the honey bee. Most folks don't have a clue how important the honey bee is to civilization. They pollinate crops, an estimated one-third of all the fool crops we consume. Check out the 10 facts about honey bees you may not know (included in this publication).
Soffel Farms
1545 E. San Bernardino Avenue,
Redlands, Ca.
Serving Mentone and surrounding communities since 1914
Categories: history
/